Welcome to Saddlebag Dispatches, the Award-Winning Home of Great Western Fiction.
If you like stories of the West, you've come to the right place. But we don't just tell stories of the Old West. If a tale takes place west of the Mississippi and has the spirit of the Old West in it—even if it involves pickups and highways instead of horses and dusty trails—this is where it belongs. In addition to fiction, we publish the best nonfiction about the West as well as poetry, interviews, and…well, pretty much anything to do with the West. Are you getting the idea we like things western?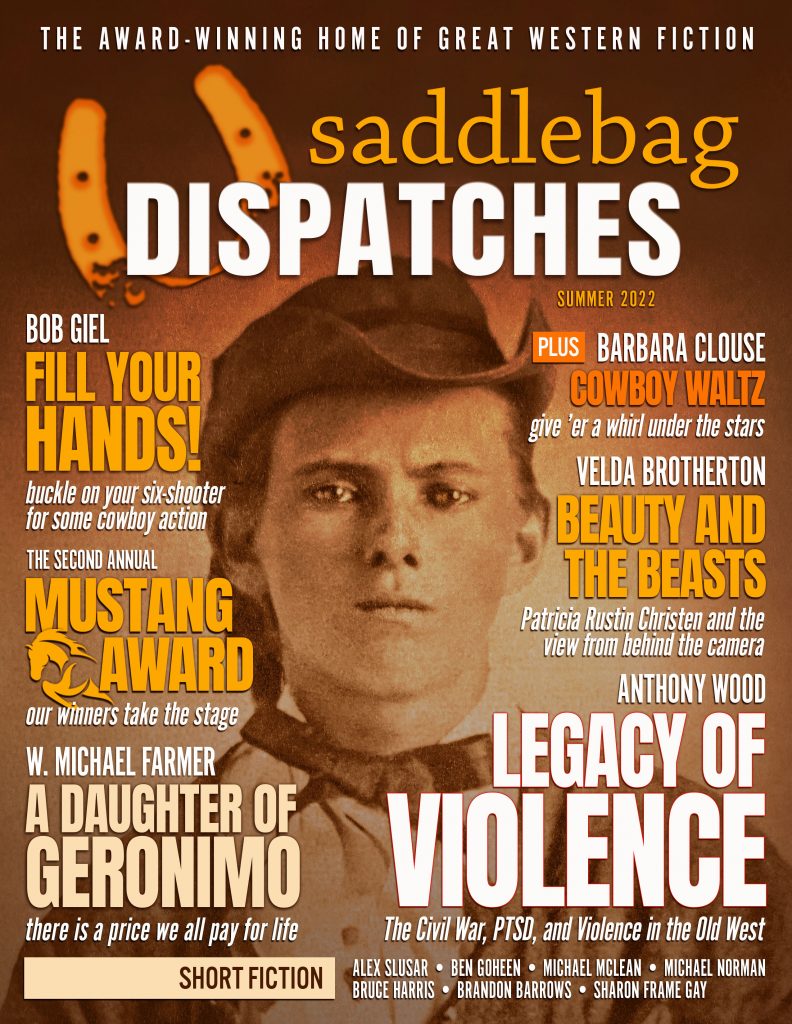 Welcome to Saddlebag Dispatches, the Award-Winning Home of Great Western Fiction. We're hitting the trail this summer with our most diverse issue yet! Anthony Wood leads off this particular wagon train with his thought-provoking cover feature "Legacy of Violence: The Civil War, Post-Traumatic Stress, and Violence on the Western Frontier." Bob Giel joins the fray with "The Shootists," covering the ins and outs of Cowboy Action Shooting, followed by Velda Brotherton's spotlight on equestrian photographer and truck driver Patricia Rustin Christen in "Long and Winding Road", and P.A. O'Neil's mud-caked look at the history of the famed Ellensburg Rodeo, "Northwest Passage." We've got tons of fiction to entertain you on the journey, too, with great new short stories from Sharon Frame Gay, W. Michael Farmer, Michael McLean, Alex Slusar, Ben Goheen, and Michael Norman, along with the winner and runner-up of our 2022 Annual Mustang Award for Flash Fiction. Prepare for some laughs from George "Clay" Mitchell and Dylan Hale with the debut their new cartoon, "The Punny Express," and don't forget your reading glasses, because Doug Osgood has thrown in his lasso with his new regular book-review column, "The Book Wagon." We've also got Cowboy Poetry from award-winner Marleen Bussma, and Barbara Clouse, as well as entries from regular columnists Terry Alexander, Paul Bishop, Regina McLemore, Dr. Michael Lee, and John T. Biggs. So pull up a log, pour yourself a cup of joe from the camp pot, and enjoy our newest issue.