Welcome to Saddlebag Dispatches, the Award-Winning Home of Great Western Fiction.
If you like stories of the West, you've come to the right place. But we don't just tell stories of the Old West. If a tale takes place west of the Mississippi and has the spirit of the Old West in it—even if it involves pickups and highways instead of horses and dusty trails—this is where it belongs. In addition to fiction, we publish the best nonfiction about the West as well as poetry, interviews, and…well, pretty much anything to do with the West. Are you getting the idea we like things western?
Check out our Summer 2021 issue!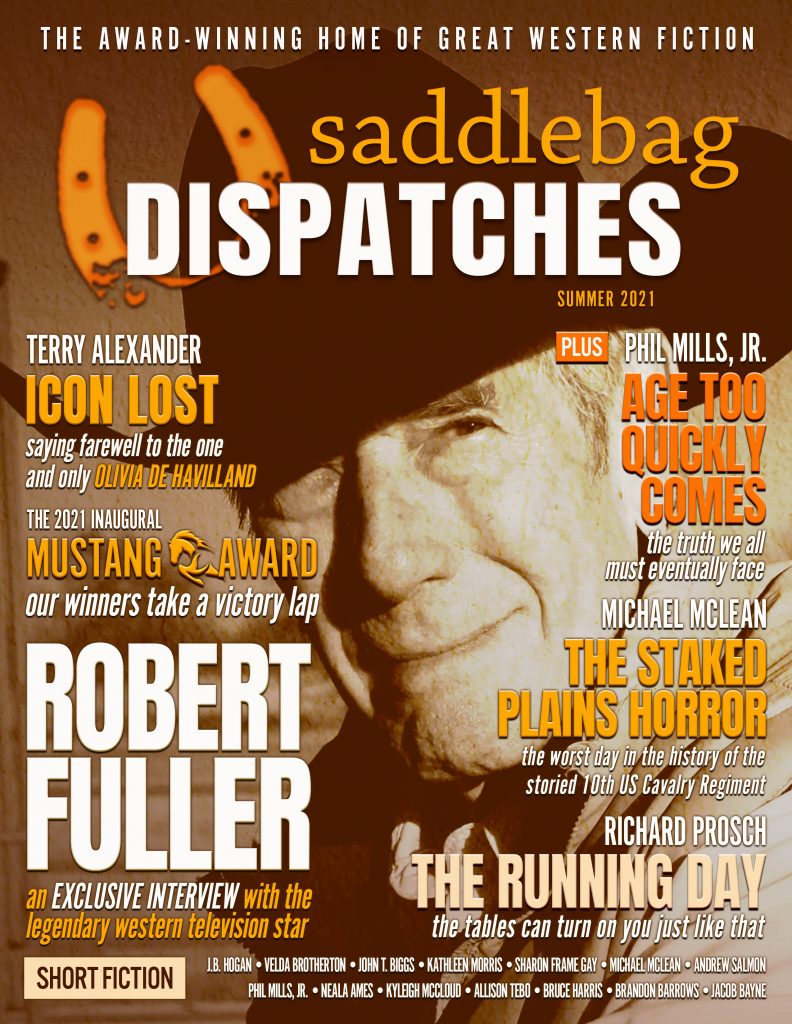 Welcome to Saddlebag Dispatches, the Award-Winning Home of Great Western Fiction. We've got cowboys, lawmen, Native Americans, and mountain men. We offer wild horses, pickup trucks, buckboards, wagons, and more. Leading our lineup this issue is our exclusive interview with legendary Western star Robert Fuller of such television classics as Laramie and Wagon Train. Author J.B. Hogan returns with Part Four of his long-running serial novel, The Last Rider, leading a star-studded roster of fictioneers including  Spur Award-winning authors Richard Prosch and Phil Mills, Jr., Willa Award-winner Velda Brotherton, John T. Biggs, Jacob Bayne, Kathleen Morris, Neala Ames, and Sharon Frame Gay. We've got Cowboy Poetry from Will Rogers Medallion Award-winner Marleen Bussma, R.G. Yoho, and Phil Mills, Jr., and nonfiction articles and columns from Terry Alexander, Paul Bishop, Regina McLemore, Michael McLean, Barbara Clouse, and more. Last but certainly not least, we're proud to announce the winners of our Inaugural Saddlebag Dispatches Mustang Award for Flash Fiction, including stories from all three of our winners and the top five honorable runners-up. This is the place where Western stories come to be told, folks. The only question is which adventure do you want to dive into first?