Welcome to Saddlebag Dispatches, the Award-Winning Home of Great Western Fiction.
If you like stories of the West, you've come to the right place. But we don't just tell stories of the Old West. If a tale takes place west of Mississippi and has the spirit of the Old West in it—even if it involves pickups and highways instead of horses and dusty trails—this is where it belongs. In addition to fiction, we publish the best nonfiction about the West as well as poetry, interviews and…well, pretty much anything to do with the West. Are you getting the idea we like things western? Watch for our Spring/Summer 2020 issue, coming IN early July, 2020!
Welcome to our Autumn/Winter 2019 issue! Click on the cover to get started.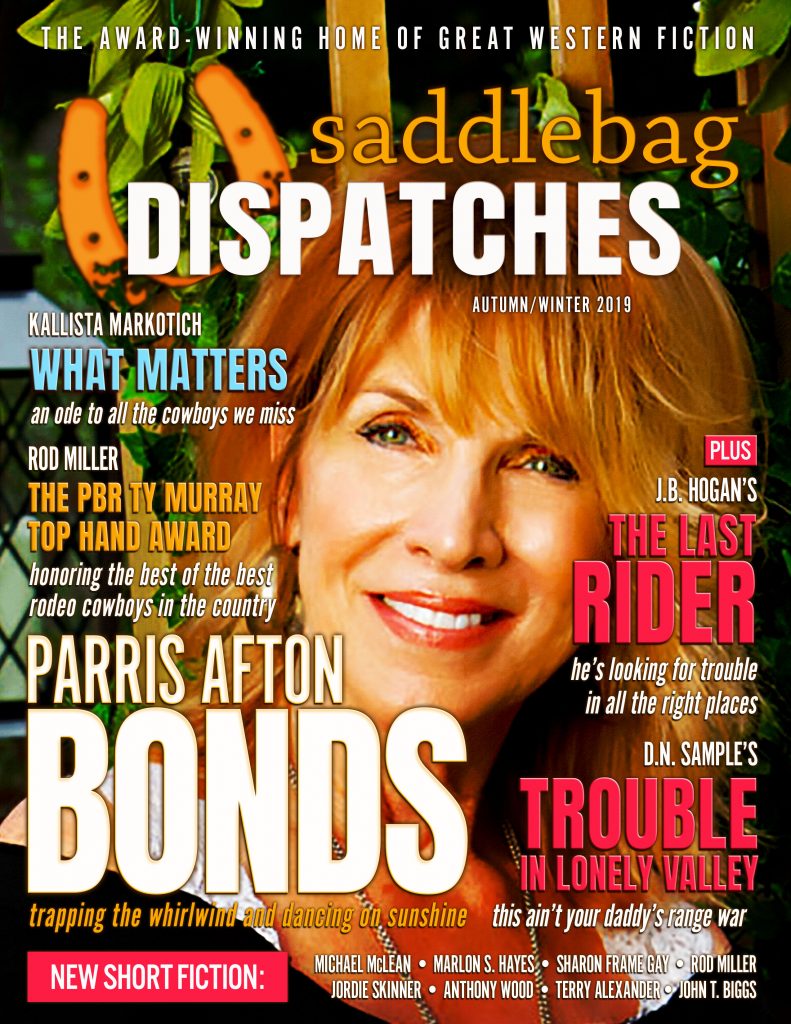 The Autumn/Winter 2019 issue of Saddlebag Dispatches  features an exclusive interview with New York Times bestselling author Parris Afton Bonds, feature stories on the PBR Ty Murray Top Hand Award, controversial Indian "outlaw" Ned Christie, legendary Canadian rancher George Ross, and the secret religious brotherhood known as Los Hermanos y la Ultima Veronica. You'll also find fresh new Western fiction from 4-time Spur Award-winner Rod Miller, Anthony Wood, Jordie Skinner, Michael McLean, Marlon S. Hayes, J.B. Hogan, D.N. Sample, Terry Alexander, John T. Biggs, and Sharon Frame Gay, as well as cowboy poetry from Kallista Markotich and Mike Dailey. So, pour yourself a cup of cowboy coffee, pull up a stump or a box to sit on, and share the amazing talent represented here. We hope you enjoy reading it as much as we have putting it together for you.