Welcome to Saddlebag Dispatches, the Award-Winning Home of Great Western Fiction.
If you like stories of the West, you've come to the right place. But we don't just tell stories of the Old West. If a tale takes place west of Mississippi and has the spirit of the Old West in it—even if it involves pickups and highways instead of horses and dusty trails—this is where it belongs. In addition to fiction, we publish the best nonfiction about the West as well as poetry, interviews and…well, pretty much anything to do with the West. Are you getting the idea we like things western? Watch for our Winter 2020 issue, coming inlet December, 2020!
Check out our Summer 2020 issue! Click on the cover to get started.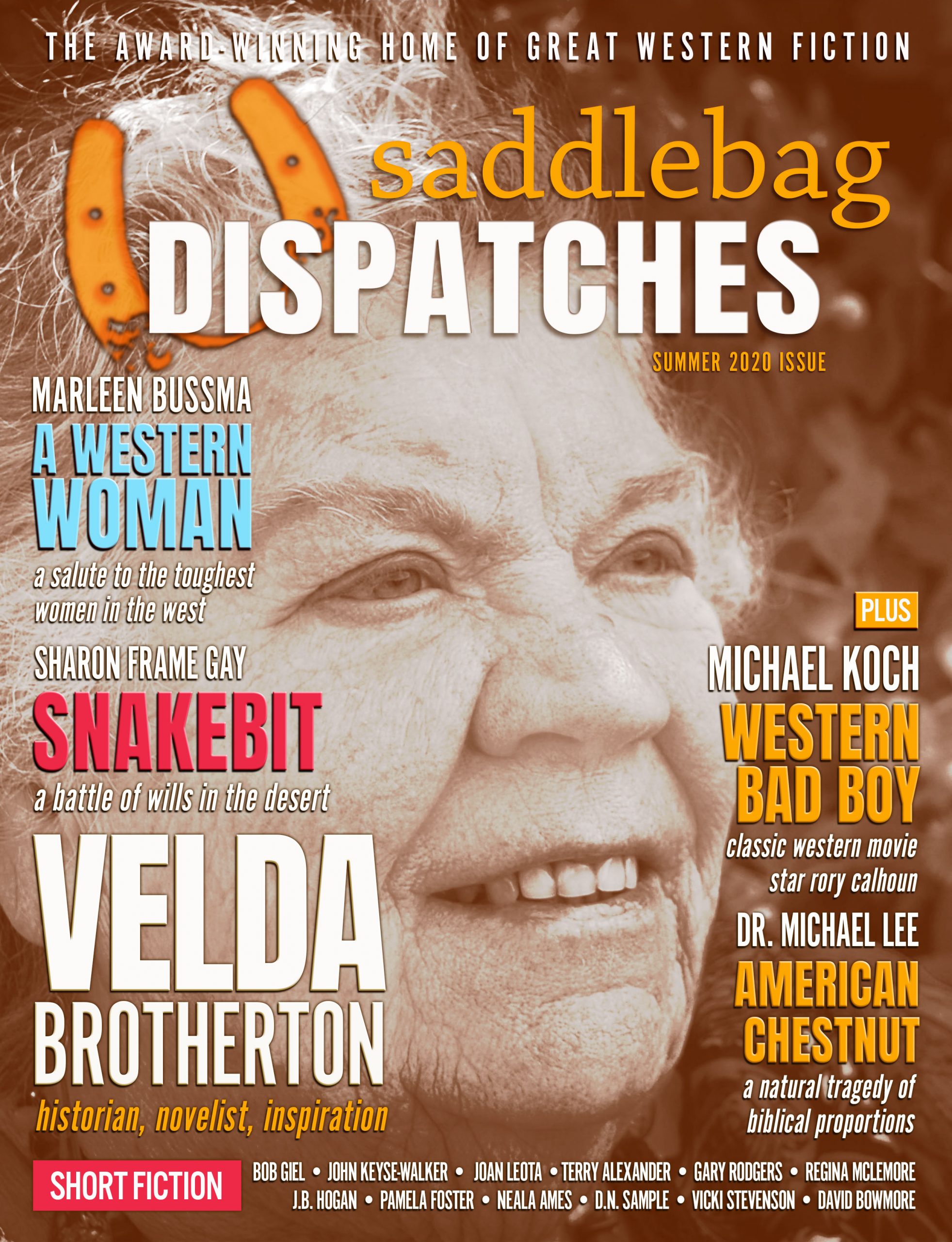 For our Summer 2020 issue, we've pulled out all the stops to bring you the best and newest content around. Headlining things this time out is Pamela Foster's exclusive interview with bestselling author Velda Brotherton. Then take a turn for the natural with Dr. Michael Lee's fascinating history of the American Chestnut tree. Catch up with old favorites with profiles of classic Western movie stars Peter Fonda, Susan Cabot, and Rory Calhoun, as well as Cherokee Police Captain Sam Sixkiller. If it's an escape you're looking for, though, we've got that, too—just gallop into the exciting new chapters of our two exclusive serial novellas, Trouble in Lonely Valley by D.N. Sample and The Last Rider by J.B. Hogan, or a bevy of new short stories from the likes of Western writers Bob Giel, Sharon Frame Gay, Vicki Stevenson, Regina McLemore, David Bowmore, Neala Ames, John Keyse-Walker, Joan Leotta, Barbara J. Warren, and Gary Rodgers. You'll find original cowboy poetry from Marleen Bussma and four-time Spur Award-winning poet Rod Miller, as well as more columns and features from our staff and some of your other favorite Western writers old and new, including our newest addition, Paul Bishop from the Sixgun-Justice podcast.  Saddle up and hang on tight, partner, you're in for one hell of a ride!