Welcome to Saddlebag Dispatches, the Award-Winning Home of Great Western Fiction.
If you like stories of the West, you've come to the right place. But we don't just tell stories of the Old West. If a tale takes place west of the Mississippi and has the spirit of the Old West in it—even if it involves pickups and highways instead of horses and dusty trails—this is where it belongs. In addition to fiction, we publish the best nonfiction about the West as well as poetry, interviews and…well, pretty much anything to do with the West. Are you getting the idea we like things western? Watch for our Summer 2021 issue, coming your way Independence Day, 2021!
Check out our Winter 2020 issue! Click on the cover to get started.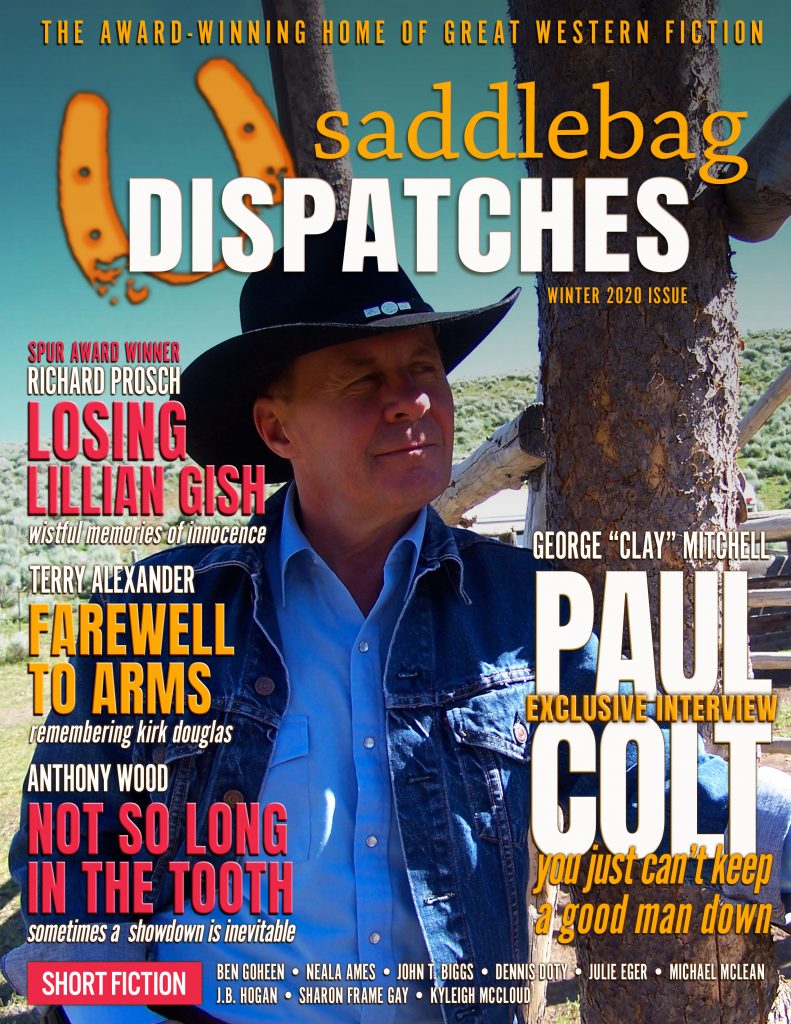 Well, folks, here it is, the Winter 2020 issue of Saddlebag Dispatches, and it may well be our best yet. We've got cowboys, lawmen, Native Americans, and mountain men. We offer wild horses, pickup trucks, buckboards, and wagons. Our headliner for this issue is bestselling author Paul Colt, who graces our cover. J.B. Hogan returns with his long-running serial novel, The Last Rider, only this time he's joined by Spur Award-winning author Richard Prosch and his new short story, "Losing Lillian Gish," as well as more great Western fiction from the likes of Anthony Wood, Sharon Frame Gay, Ben Goheen, Neala Ames, John T. Biggs, Dennis Doty, Julie Eger, Michael McLean, and Kyleigh McCloud. We've got Cowboy Poetry from Marleen Bussma and Richard Manley Heiman and nonfiction profiles on the late, great Kirk Douglas, Cherokee outlaw Tom Starr, silver screen heroine Linda Cristal, and Western novelist and screenwriter James Warner Bellah. The only question is which adventure do you want to dive into first?