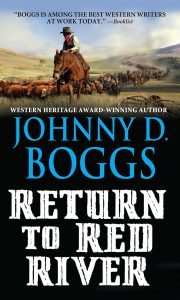 Return to Red River by Johnny D. Boggs
Copyright 2016.
Published by Kensington Publishing Corp.
Mathew Garth spent the last twenty years keeping Thomas Dunson's cattle empire thriving. Now, middle-aged with two sons of his own, an especially harsh winter has devastated herds throughout Texas, even reaching deep into southwest Texas to Garth's own herd. Debts old and new force him to risk storms and rustlers to drive a herd to Dodge City. Along the way, he must battle old enemies, face old secrets, and even fight family, all to save the Dunson legacy.
Two elements are critical for iconic westerns—settings and action. In Return to Red River, setting is as much a character as the Garth family, and Boggs paints such vivid scenes the reader might reach to wipe sweat or shiver along with the characters. In addition, the author uses all the classic action scenes—saloon fights, stampedes, gun battles, and more, all with the attention to detail that sets the reader front and center. Yet, the real keys to this novel are the relationships. Human passions are all on display, driving the plot, and Boggs handles them with the dexterity of a fine craftsman. Every word, every scene, tightens the screws on Mathew Garth.
With this revisiting of the classic movie, the author proves yet again why he is the modern master of the western genre. The plot spins and bucks more than a rodeo bull and leaves the reader gasping for breath long after the final page. Place this one to the front of your bookshelf. You'll want to read it again and again.
Rating: